KAREN'S KILLER BOOK BENCH: Welcome to Karen's Killer Book Bench where readers can discover talented new authors and take a peek inside their wonderful books. This is not an age-filtered site so all book peeks are PG-13 or better. Come back and visit often. Happy reading!
~~~
CROWNS AND CABALS
An Apocalyptic Tale of New World Order
BY DINA RAE
Blurb
Vigilantes stumble upon a cabal of world power.

Journalist Raphael King knows three things about New World Order. First, control the media. Check. Second, erase the world's borders. Check. Third, provoke a nuclear war. Check. Is it checkmate for the ultimate inner circle?
In 2043 Raphael loses it all. He and sister-in-law Jaxie Nottingham refuse to sit back and watch the new world government unfold. They set up vigilante cells with the goal of disrupting anyone who benefits after the war. One of their targets leads them to a secret society created since the dawn of civilization.
CROWNS AND CABALS
An Apocalyptic Tale of New World Order
BY DINA RAE

New World Order Lesson 1
The United Nations is often the target world takeover conspiracy.  They have successfully managed to organize the world on many levels.  But rumors and innuendo were soon replaced with possibility during the end of the twentieth century.  The warning sirens went off shortly after 178 U.N.'s members signed off on Agenda 21 (the 21 is for the 21st Century) in 1992.
This agenda appears to be a blueprint for the future with the U.N. ordaining itself as leader of the world.  Sustainable Development is probably the biggest catch phrase that the agenda brings.  Saving the environment seems to be the dog whistle that rallies the world behind the agenda.  The mainstream media play their part in selling the agenda as the last hope in saving the planet.  Sound like the New Green Deal? (It is.) At a closer look, there is much more going on.
Agenda 21 is not an enforceable law, but rather a global suggestion.  Since 1992 all kinds of policies around the world have been made in response.  Ending poverty is probably one of the most concerning goals of the agenda.  Solutions to ending poverty encourage redistribution of wealth, aka socialism.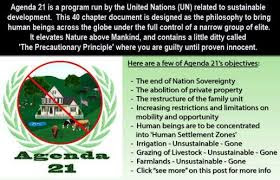 Agenda 21 is a four hundred page document divided into four sections.  Again, the first section is about abolishing poverty in developing cities.  The second section focuses on the environment with warnings of deforestation, radioactive wastes, pollution, etc.  The third section talks about the role of women, children, NGOs, and farmers in relation to this agenda.  Lastly, section four talks about tech transfer, education, and international institutions and finances.
In 1997, the agenda held a follow-up meeting called Rio + 5 which increased the agenda's role in globalization.  In 2002, Rio + 10 added another catch phrase called MDG or Millenium Development Goals, eight goals to start.  Rio + 20 in 2012 called for an Agenda 30 (for 2030) that increased the goals to seventeen in number.  I will write about these NWO goals separately.  Now there is Vision 2050.  The Democrats incorporated these growing globalized plans with their Green New Deal.
Do you trust the U.N.?  Or is this all a wolf in sheep's clothing?  Remember that W.H.O. (a section of the U.N.) sided with China at the beginning of the coronavirus spread.  Although Trump broke ties (and our taxpayer money), Biden will soon patch up relations.
Crowns and Cabals fictionalizes how the U.N. could play a role in the future through a one world government.
Dina Rae lives with her husband, two daughters, and three dogs outside of Dallas. She is a Christian, avid tennis player, movie buff, teacher, and self-proclaimed expert on several conspiracy theories. She has been interviewed numerous times on blogs, newspapers, and syndicated radio programs. She enjoys reading about religion, UFOs, New World Order, government conspiracies, political intrigue, and other cultures. Crowns and Cabals is her eighth novel.
~~~
Links to Dina's website, blog, books, etc.:
Amazon:
https://www.amazon.com/Crowns-Cabals-Apocalyptic-World-Order-ebook/dp/B07Q2731TZ/ref=sr_1_1?keywords=dina+rae&qid=1556929392&s=gateway&sr=8-1
Website: http://conspiracycrackpot.com/
@haloofthedamned
Blog: https://conspiracycrackpot.home.blog/
Blog: www.dinaraeswritestuff.blogspot.com

Trailers:
The Sequel:
https://www.youtube.com/watch?v=ZAMlurlxPZs&t=16s
The Best Seller:
https://www.youtube.com/watch?v=JQER8wJmaf8
The Last Degree:
http://www.youtube.com/watch?v=nkbg6Yy8UKU
Halo of the Damned:
http://www.youtube.com/watch?v=4p89LXZNxOs

FB:
https://www.facebook.com/DinaRaeBooks?ref_type=bookmark
Special Giveaways: Dina is giving away print copies of CROWNS AND CABELS to three lucky readers and ebook copies to three more lucky readers who comment on her Karen's Killer Book Bench blog.
Happy Reading!
~~~
Thanks, Dina, for sharing your story with us!
Don't miss the chance to read this book!